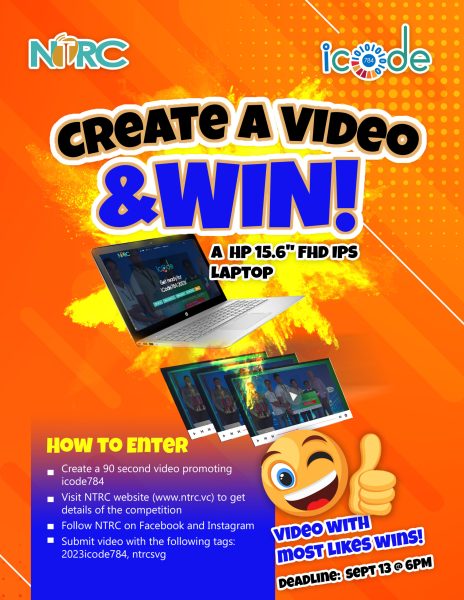 The pre-launch of the NTRC's 2023 icode784 competition is challenging participants to create a video in aid of promoting this year's competition on all socials, television, and radio advertisements.
Social Media Competition Video Rules
In a video no longer than 90 seconds, you must mention the below:
List the NTRC's social media pages, website & numbers.
State the registration date of the competition.
State the categories of the competition.
State who can enter (age group) the competition.
List the cash prizes along with the trip to Barcelona, Spain.
State the major change to the competition this year (ALL ENTRIES FOR THIS YEAR'S COMPETITION PRELIMINARIES WOULD BE DONE USING A PRE-RECORED VIDEO OF YOUR PRESENTATIONS, AS SUCH ALL VIDEOS MUST BE SENT TO THE NTRC VIA EMAIL BY OCTOBER 16, 2023, BY 4:00PM. ONCE YOUR GROUP ADVANCE TO THE FINALS THEY WOULD PRESENT THEIR IDEA/APP LIVE TO THE JUDGES).
The social media video competition would run for a period of 4 weeks from August 16- September 13, 2023.  Submit your video to the NTRC's Whatsapp number 1 784 498 8292. The video with the most likes by September 13, 2023 at 6:00pm will be the winner. The winner will be posted on our social media pages on September 13, 2023 at 7:30pm.