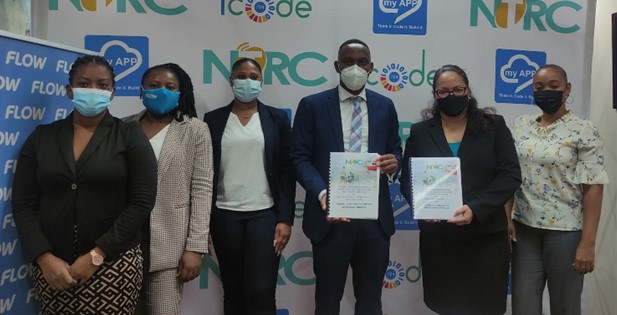 The National Telecommunications Regulatory Commission (NTRC) and   Cable and Wireless SVG Ltd (Flow) came together on May 17, 2022, for the signing ceremony of the capital cost and maintenance contracts for the expansion of the Global Maritime Distress and Safety System (GMDSS) project. The capital costs contract of the project will be EC$448,071.82 and EC$166,419.91 will be for the maintenance cost contract.
The objective of the project is to expand the coverage to the GMDSS system which is in place in St. Vincent and the Grenadines (SVG). The GMDSS coverage is currently limited to the Mainland and Northern Grenadines as
there is only one transmission site located at Mount St. Andrews. The addition of a new transmission site in Union Island which would be linked to the existing system using the newly installed Caribbean Regional Communications Infrastructure Program (CARCIP) Subsea fiber would greatly improve the GMDSS coverage in the southern Grenadines, resulting in a safer environment for our fisherfolk, yachts, cruise ships and all other vessels transiting our sea space. This project is being facilitated by our Universal Service Fund (USF).
The ceremony was attended by the Consumer and Public Relations Manager of the NTRC- Ms. Rhea Lewis, Head of SMB & Partner Channel South Caribbean of Flow – Ms. Andrea Liverpool, Country Manager of Flow – Mr. Wayne Hull, SME Account Executive of Cable & Wireless SVG Limited – Ms. Applianna Smith, Chairperson of the NTRC- Mrs. Roxanne Williams, Executive Assistant of the NTRC- Ms. Andra Keizer.