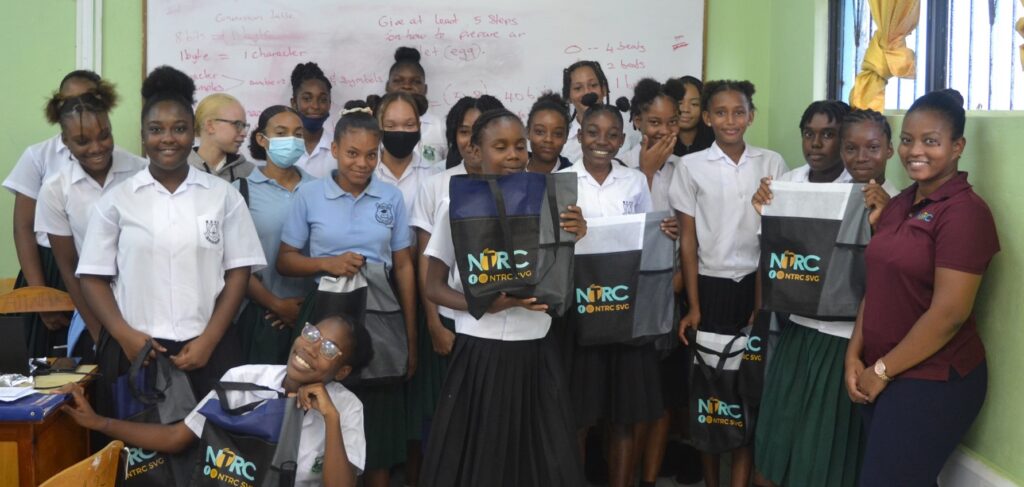 The National Telecommunications Regulatory Commission continued its Public Awareness Campaign for 2022 with the hosting of a seminar for the International Girls in ICT Day. Girls in ICT Day is celebrated each year on the 4th Thursday in April. On Thursday, April 28, 2022, the NTRC took to Bequia to host a seminar under the theme 'Access and Safety'. This event was orchestrated by the International Telecommunications Union (ITU) and its partners who work together to develop solutions and ideas for lowering barriers to access and improving online safety for girls and young women. The aim of the event is to promote and maintain gender equality and women empowerment, guaranteeing the inclusion of women in STEM and ICT.
The seminar took place from 10:00AM – 3:00PM and consisted of twenty- two (22) girls from the Bequia Community High School and Bequia Seventh-day Adventist Secondary School. The seminar featured presentations from the NTRC's Consumer and Public Relations Manager-Ms. Rhea Lewis, NTRC's Spectrum Manager – Ms. Nadine Hull, NTRC's Intern- Ms Jamila Spence and the featured guest speaker at this year's event was Dr. Kim I. Mallalieu (PhD), Senior Lecturer at the Department of Electrical & Computer Engineering from the University of the West Indies St. Augustine,Trinidad & Tobago.
In addition to the presentations, the students also received basic instructions and hands on teaching of a programming device call the Micro:bit by the NTRC's Public Relations Officer- Ms. Eustasha Walter.
The NTRC would like to thank its partner Computec and extend gratitude to the Principal of the Bequia Community High School, Ms. Nicole Glynn and the Principal of the Bequia Seventh-day Adventist Secondary School- Mr. Morris Hercules.